Juan here with  La edición de libros ilustrados en Chile;Sol Díaz Castillo y Marcela Trujillo's La Polola podcast; Power Paola in Santiago; and Yɨsɨrihaɨ Healing.
—————————————————————————————————
La edición de libros ilustrados en Chile
Carlos Reyes y Catalina Infante de Catalonia Libros conversan del proceso de edición de libros ilustrados para el mercado chileno.
—————————————————————————————————
Escucha @lapololapodcast, un podcast del cómic femenino con Sol Díaz Castillo y Marcela Trujillo!
—————————————————————————————————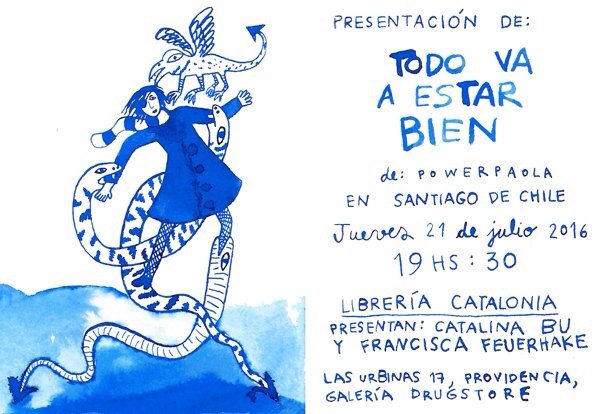 —————————————————————————————————
Yɨsɨrihaɨ: Healing that rescues the shadow from genocide 
Bárbara Santos illuminates the depths of an incredible interdisciplinary and intercultural project, the book Los Jaguares del Yuruparí (2015) over at Terremoto.mx .
Los Jaguares del Yuruparí presents the outcome of more than 10 years of research conducted by indigenous young people from the communities of Pira-Parana in the Colombian Amazon -under the guidance of the traditional knowledge of their elders- on cultural and sacred knowledge related to the territory and its management.(…)

The knowledge or origin of life story of the Hee Yaia Keti Oka ancestors has been recognized by UNESCO as Immaterial Cultural Patrimony(3), in recognition of the spoken knowledge of Keti Oka as a thousand-year-old technology transmitted from person to person through a network of outposts and sacred places in the Great Territory of the Hee Yaia – Yurapari Jaguars.

"Keti translates to "news" or "story"; Oka means "tongue" or "jaw." Keti Oka is "origin story" – ritual singing and knowledge that comes from the body, sacred dance and words at the same time."(4) In this way, the research, editing and creation of the book was a generous precipitate ofKeti Oka, not only because of the texts narrated, but also because of overlapping temporalities, matrixes and dimensions used for the translation – represented through images, comics, photographs and maps of landmarks or thousand-year-old sacred elements.
—————————————————————————————————
hasta la proxima,
Juan
—————————————————————————————————
We here at Comics Workbook work hard to bring you the best comics news from around the world. We're proud of what we do. If you'd like to share the news you find here, please credit www.comicsworkbook.com. Thanks.
Juan José Fernández is a Pittsburgh comics community organizer, most recently named as one of "Pittsburgh's Creative Forces: 12 People to Meet in 2017" in the Pittsburgh Post-Gazette, and one of seven 2016 Fuerza awardees by Café Con Leche for providing Pittsburgh Latinx leadership. He co-organizes the annual Pittsburgh Zine Fair, leads the Pittsburgh Comics Salon, and provides educational outreach for the Comics Workbook and the ToonSeum. He currently works at the Greater Pittsburgh Arts Council.
Latest posts by Juan Fernández (see all)